Keyless Deadbolt vs. Standard Deadbolt: Which One Should You Choose?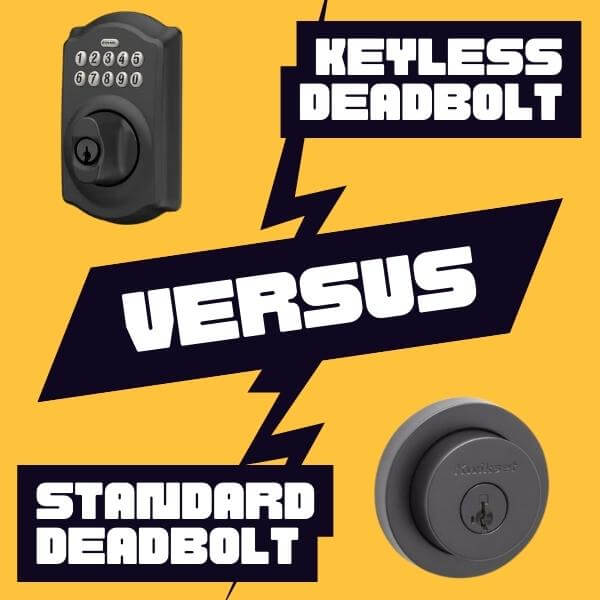 Whether you have a commercial or residential property, choosing the best deadbolt system between standard and keyless is your primary option.
So, which one should you choose? We at Speedy Locksmith Ottawa are here to help with the pros and cons of each.
You can then determine the best option to keep your property secure. 
Security Hardware for Your Business or Home
A lock comprises many components, and the deadbolt is no exception.
Our customers often ask us which section of the deadbolt provides the best security.
Is it the lever, knob, or lock? Well, the complete deadbolt protects your building to prevent criminals from entering the building by force. 
Standard Deadbolt Versus Keyless Deadbolt
But to understand the difference between a standard and a keyless deadbolt, it helps to compare the two with pros and cons. 

The keyed lock is your traditional deadbolt found in many buildings, also known as the mechanical deadbolt.
It provides a regular turn-key security system to open or lock a door using a key.
You do not need any added items like remotes or batteries.
It is an economical deadbolt with a high-grade steel structure. 
Advantages of Standard Deadbolt
The mechanical deadbolt is a true and tested lock system at an affordable price if you have a limited budget.

 

These days you can find different style options you can customize according to your needs.

 

The standard deadbolt installs easily compared to your keyless deadbolts.
You get limited access to a building using the standard deadbolt.

 

If the deadbolt malfunctions, you can easily have it repaired.
The Disadvantages of Using a Standard Deadbolt
You need to provide individuals with keys and carry them around with you.
Having spare keys always leads to a risk of people getting access to the building.
Only the person with a key can access the building.
A person can easily get locked out with keys getting lost or breaking inside the door.

 

These types of deadbolts you cannot use with your innovative technology building system.

 

While the keyless lock started with vehicles, it is now making its way into businesses and homes. As a result, you can find vast brands of keyless deadbolts with many unique features that vary from one another.
But these locks offer you convenience. 
Advantages of Keyless Deadbolt
You can find the keyless deadbolt compatible with Bluetooth technology, your smartphone, and other systems.

 

You can open or close your doors remotely, and easy to change the codes regularly.

 

It is a great option to secure your business when you have little staff or a home with a small family.

 

You need not hide a spare key that could fall into the wrong hands, but key overrides are available.

 

The main attraction of a keyless deadbolt is convenience, especially when arriving home and your hands are full of groceries.

 
The Disadvantages of Using a Keyless Deadbolt
It is more expensive than a standard deadbolt and requires a professional installation.
You will need to keep checking the batteries and have spares available.
The weather also impacts the function depending on the model you have.
Other people can memorize the code when written down.
The keypad can also wear down.

 
Price: Keyless Deadbolt vs. Standard Deadbolt

Automatically, the keyless deadbolt is more expensive than your standard deadbolt.
To have a standard deadbolt installed can cost around $95-$189, while your keyless deadbolt costs around $350-$600.
No matter what you plan to choose when it comes to building security, or you still feel undecided about what lock to pick.
Then, contact us today or visit us. We will help you choose the right one for your building security needs.