What is a Panic Bar (Exit Device)?
A panic bar is a device attached to doors allowing for quick egress. These devices are also commonly referred to as exit bars, push bars, or crash bars.
There are many instances when these devices are required by law in school buildings, public buildings, factories, and some commercial buildings. 
Most commercial buildings and offices even if not required by law have some form of a panic bar on at least one door.

Panic bars are often used for safety purposes for quick egress in the case of an emergency such as a fire or panic situation.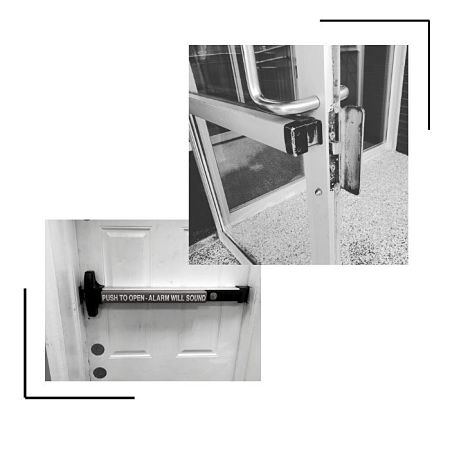 Our Exit Devices Suppliers
Need more info from our expert!
A panic bar device (push bar) is simply a horizontal bar that is installed onto your existing door.
The panic bar functions by allowing an easy push to release and activate a latch mechanism thus unlocking the door by simply pushing on the bar.  
The door with the installed panic bar can remain locked from the outside if needed and will still open from the inside by simply pushing on the bar.
There are panic bars in many styles for all types of doors (i.e. wood, glass, metal, single/double, etc.)
Panic bars can include alarms/keypads

Panic bars can be integrated with existing security systems
The main benefit and purpose of having a panic bar installed is for the safety of all occupants in the building. Having a panic bar assures you that in an emergency, all occupants will be able to exit the building quickly and safely.
Standard Lever – Key locks and unlocks trim

Night Latch Lever – Key retracts latchbolt but does not unlock

Blank Escutcheon Lever – Always unlocked and operable (no cylinder)

Dummy Trim Lever – Lever does not operate latchbolt and there is no cylinder, used as pull when device is dogged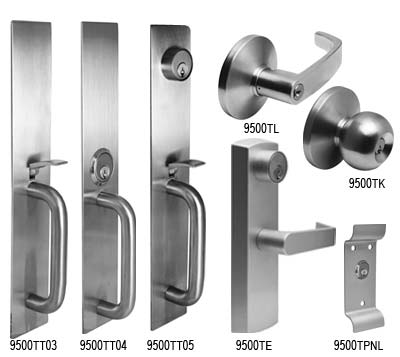 Panic bar and commercial hardware repair & Install
At Speedy Locksmith we can help you with all of your Panic Bar needs.
We can provide quality and professional installation of panic bar at your commercial location as well as repair existing panic bar or any exit device, and provide follow up maintenance on panic bars.