YES, I WANT A FREE ESTIMATE
The Real Choice For lost car key solutions in ottawa
Whether you need to replace lost car keys, program your key fob, or get a new car key copy, Speedy Locksmith Ottawa has you covered.
We have the experience and equipment to handle any automotive keys and lockout situations.
– Fast Auto Locksmith & Car Key Replacement
If you've lost the keys to your vehicle or commercial vehicle, finding an automotive locksmith is an efficient way to replace the key.
We cut and program keys on-site to ensure that you're on the road as quickly as possible.
We can create any key duplicate for any vehicle model, and we guarantee that it will work efficiently.
– Car Key Programming
We have a team of auto locksmiths that can program chip keys on-site to start your vehicle. These keys, also known as transponder keys, are popular and convenient for many vehicle owners.  
– Remotes, Fob Keys & Smart (Push to Start) keys
These days, vehicle models either have push-to-start or key-less entry systems.
While these keys are incredibly convenient, replacing them can be challenging.
Speedy Locksmith Ottawa can handle the programming for even the most sophisticated car models.
– Car Unlocking and Trunk Opening 
Being locked out of your vehicle is frustrating, especially when you need to retrieve items from the car.
We treat your emergency with the urgency it deserves.
Once you contact us, our car key locksmiths arrive in the shortest time possible to open your vehicle with our set of master keys.
A speedy, convenient and cost efficient replacement car key service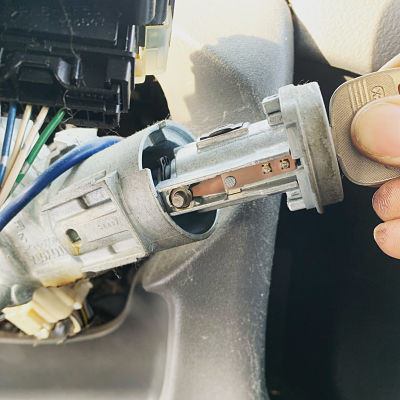 Auto Lock Replacement & Repair
Ignition Switch Repair
Starting your car successfully every morning may feel natural. However, if you damage your ignition switch, your car may not start at all.
Ignition problems may also cause unexpected shutdowns on the road. Speedy Locksmiths respond immediately to repair your ignition switch in Ottawa and ensure you're on the way once again.
Replace Car Door Locks
Creating a safe space inside your vehicle starts with having sturdy car door locks. If your locks are no longer functional, you can count on Speedy Locksmiths for swift and professional car door lock replacement services in Ottawa.