Unlocking & Cutting Bicycle Locks
We offer mobile bicycle lock out service
Have you ever returned to your bicycle only to realize you can't find the key to unlock it?
A U-lock or bicycle chain lock can secure your bicycle from thieves, but when a lost or misplaced key prevents you from returning home with your bicycle, it can be irritating.
At Speedy Locksmith Ottawa, we have the tools and expertise to open or cut your bicycle lock so you can ride your bike to your next destination.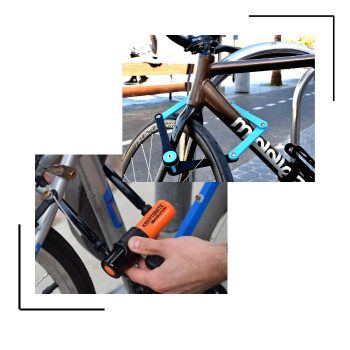 need to cut your Bicycle Lock!
Opening Bicycle Locks - mobile locksmith
If you are searching for a locksmith prepared to open your bicycle lock, you need a mobile locksmith that offers bicycle unlocking services.
Bicycle locks have a specialized niche in the locksmith industry and are often out of scope for commercial locksmiths, home locksmiths, and automotive locksmiths.
Some locksmith shops will unlock the bicycle if you bring it to them, but it is no easy task to carry the bicycle to the shop.
It is best to trust an expert that will come to your bicycle's location seven days a week and 24-hours per day.
Some common reasons to hire a locksmith for a bicycle lock:
You misplaced the key

You lost the key

The lock is jammed

The lock was damaged and needs to be cut

Key broken in the lock
Most common bicycle locks we cut
Rely on Our Mobile Bicycle Lock Service
If you have the key to your bicycle lock, but for some reason, you still can't open the lock it may be due to a failure.
Bicycle locks are exposed to the elements and can freeze up when you need them.
We service some of the most common bicycle locks like Kryptonite, Abus, and Master. We come to you at any time of day with our mobile service and can service the lock so it is working again.
If you have a bicycle lock that needs to be opened, contact Speedy Locksmith Ottawa today or call us at (613) 627-2954 to experience our friendly and professional service.
We offer emergency locksmith service in the Ottawa area, so you can get your bicycle home safely.
Is there a bike lock that Cannot be cut?
All lock can be cut or open
Are cable bike locks good?
Bolt cutters are able to cut through most cable locks we recommend a U-lock type.
Can you make a key for my bicycle lock if i lost it?
No, we dont make keys for bicycle locks.