It is time to make the change and upgrade your front door lock to a Keyless Entry door lock.
At Speedy Locksmith Ottawa we provide a variety of Keyless Door Lock system options and styles to choose from, and we will install your electronic door lock quickly and professionally.
Many homeowners are unsure about making the change to digital door locks but there are many benefits to make the upgrade for the safety of your home and family.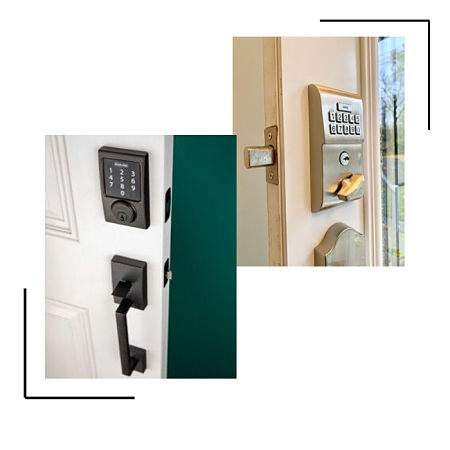 Our Electronic Door Locks Suppliers
need more info on Keyless Locks?
How does a Keyless Entry Door Lock work?
A Keyless entry lock does not require a physical key for its use.
You simply program the lock with a numbered code that you will use to unlock your door for entry.
Advanced keyless entry systems can be programmed to work with apps on your phone to lock and unlock the electronic door lock and different codes can be used for different users.
These electronic door locks do require a change of batteries from time to time; most manufacturers suggest changing your battery yearly.  
There are backup keys provided to manually unlock the door in case of malfunction or an unexpected dead battery in the electronic lock.
Types of keyless electronic door locks:
Keypad/combination locks

Keyless/wireless smart locks

Key fobs/cards

Biometric locks
Most common electronic locks we install
Benefits of a Keyless Entry Door Lock
Convenience – with Keyless entry locks the days of losing keys and hassling with rusty keyholes is a thing of the past.
You and your family can enter your home with the push of a few buttons.
More controlled access – Have a dog sitter that needs to get in your home? You don't need to make them a key with a digital lock.
You can set up codes for different users to access your home and with advanced systems and wifi connectivity can even lock and unlock the door remotely for someone from a phone application anywhere in the world.
Increased security –With a digital door lock you won't have to worry if you forgot to lock the door.
The door will automatically lock after a short time if you did not activate the lock function before leaving.
Keyless entry locks can seamlessly be integrated into existing security systems for better control of access to your home and tracking of entry and exit from your front door.
FAQs about keyless electronic door locks
What do I do if the battery in my lock dies?
Our electronic locks also have a key option so you can always open with the key.
Will the lock work in cold weather ?
Yes, even in the winter in Canada the lock will work with no problem.
How many codes can I have?
Most of our keyless locks can have 30 different codes.
How do i replace the battery?
Open the cover of the battery compartment in the back, take out the old batteries, and replace with new 1.5V Alkaline AA or 9V high quality batteries.