Honda Car Key Replacement
We make all type of Honda Keys On-Site
If you have lost all your Honda car keys or have locked your car keys or remote key inside your Honda car, our technicians can also offer emergency assistance.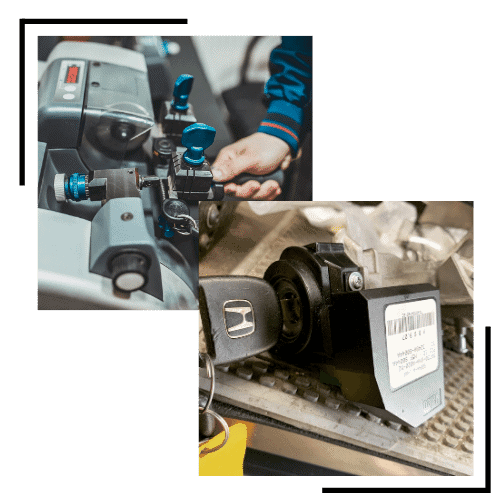 Lost All your Honda keys ? We can help
Locking yourself out or losing the keys to your Honda vehicle is something you always want to avoid because it results in a real headache.
Inasmuch as this situation is pretty common, it is quite fascinating and at the same time frustrating, how car keys get lost in the most unusual ways and inconvenient times.
Notwithstanding, Speedy Locksmith Ottawa can help you to avert such a troublesome experience through our professional Honda key replacement services in Ottawa and surrounding areas.
Honda Key Duplication Services to Avoid Future Headache
Having a spare for your Honda vehicle is quite significant because it saves you further headache any other day you lose your keys or get locked out of your car.
Our experts can help duplicate the key you already have or entirely create for you a brand-new key.
Type of Honda Keys We cut & Program
Is A Locksmith Less Expensive Than a Dealer?
Although a certified Honda dealer can replace the key for you, a dealer is a bit expensive than a locksmith.
Additionally, dealers usually require that you set an appointment with them and you will have to tow your car, normally due to the high-traffic volume they serve, they are mostly very busy.
Giving us a call to replace your key not only saves you money and time but also hinders you from having to make a pit stop to a nearby Honda dealer.
At Speedy Locksmith Ottawa, we pride ourselves on integrity, high level of expertise and honesty.
Our professional insured, licensed, and bonded locksmiths will help you to get back to your Honda vehicle with a brand-new key in the shortest time possible.
Our computers are current with the up-to-the-minute technologies, and our cutting tools are ultramodern, so whatever the Honda key services you need, we've got you covered.
Frequently asked questions
We can replace any Honda key.
All Honda cars after the year 2000 require a chip key to be able to start the car we can cut and program any Honda key.